KINTO Global Innovation Days (Winning Team Interview)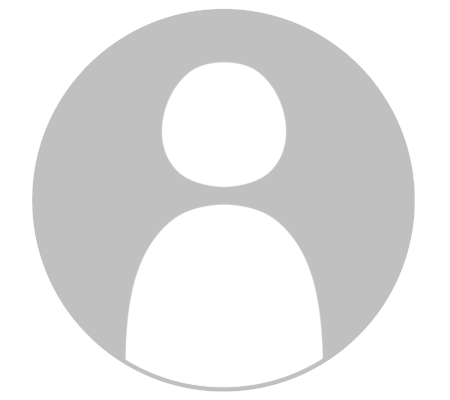 M Mori, Maya S, Flo V
Hi, I'm Flo from KINTO Technologies!
Today I would like to interview the winners of our first-ever Innovation Days! 🥳
Background
Global KINTO Innovation Days was a hackathon-like event held between the 14th and 21st of December 2022, where 30 of our colleagues in Global KINTO, divided into 6 teams joined forces in an effort to bring new ideas to our organization while improving our teamwork.
You can read more about how we prepared for the event and how the event went.
Team Introduction
Before starting, let me introduce you to our winners: team United Nations!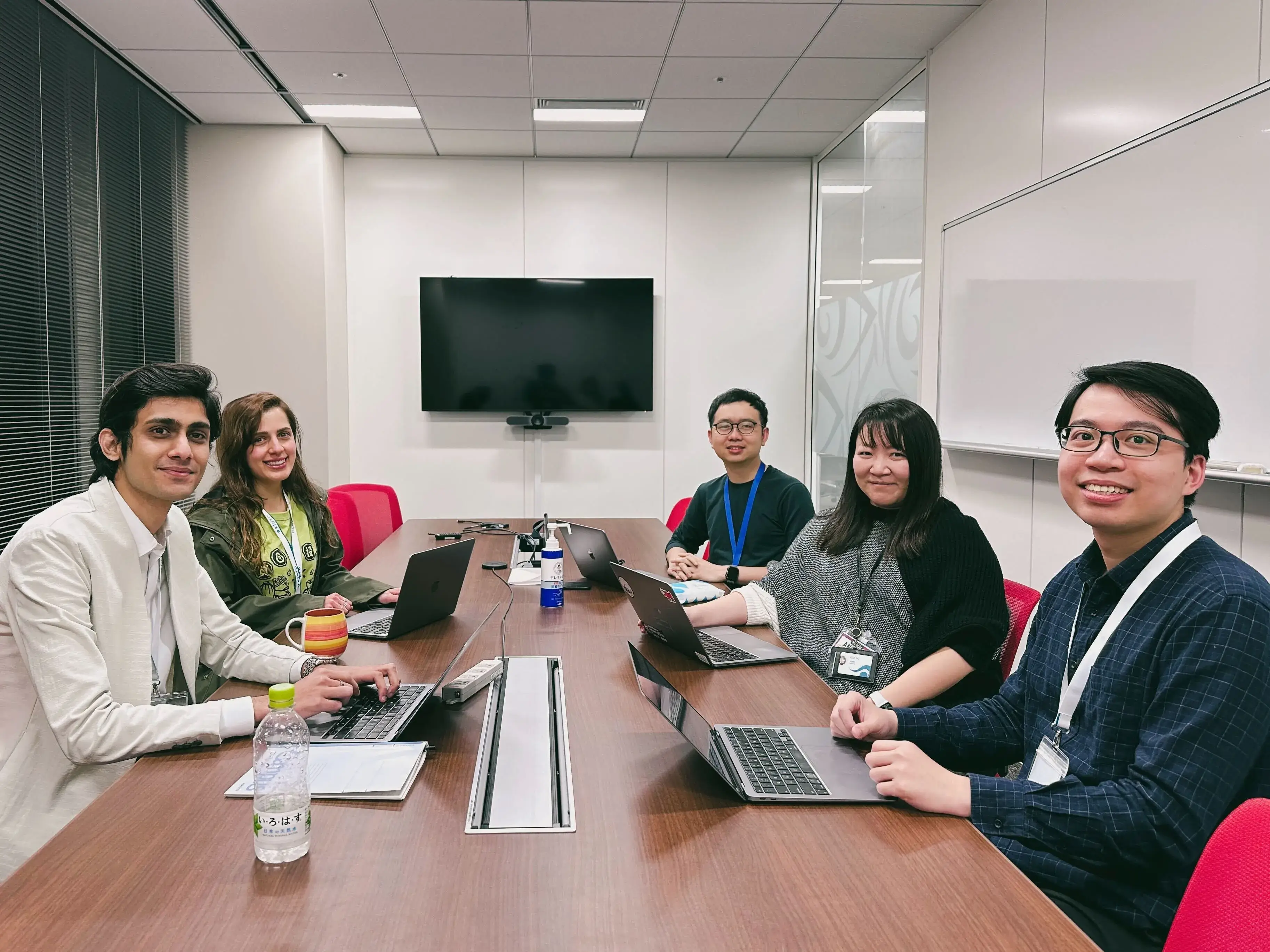 (from left, clockwise) Anwar Moji Chris Angela Duc
Anwar: Business development manager with 5 years of experience in the Automotive industry, working to expand KINTO Technologies Globally.
Moji: Product designer with expertise in UX/UI, mainly focusing on creating user-centered digital products by working closely with cross-functional teams, to ensure that the designs meet both business goals as well as user needs.
Chris: Full stack engineer but mainly working in frontend field in KINTO Technologies.
Angela: From the DevOps team. Cloud Engineer with over 5 years of cloud experience, and 2.5 years of System Architecture experience. Over 15 years of system development experience.
Duc: Backend engineer working on ID platform team and also have a little frontend experience.
Let's Begin!
Q01. Why did you join the Innovation Days?
Anwar: Because it offered a unique opportunity to learn, collaborate with engineers, and create something meaningful for the company.
Moji: To gain exposure to new design challenges and contribute to the development of innovative solutions that have the potential to revolutionize the mobility industry.
Chris: I see this as a breakthrough opportunity for us to create something new for KINTO, I also wanted to try out some new technologies and ideas.
Duc: I wanted to join because this is my first time participating in such an event.
Angela: I wanted to have a deeper collaboration with colleagues from other teams. Also, I wanted to try something new.
Q02. Where did you get the team name from?
Chris: We named our team "the United Nations" because we have a very diverse team (but to be honest, the other teams are mostly the same as well! 😅)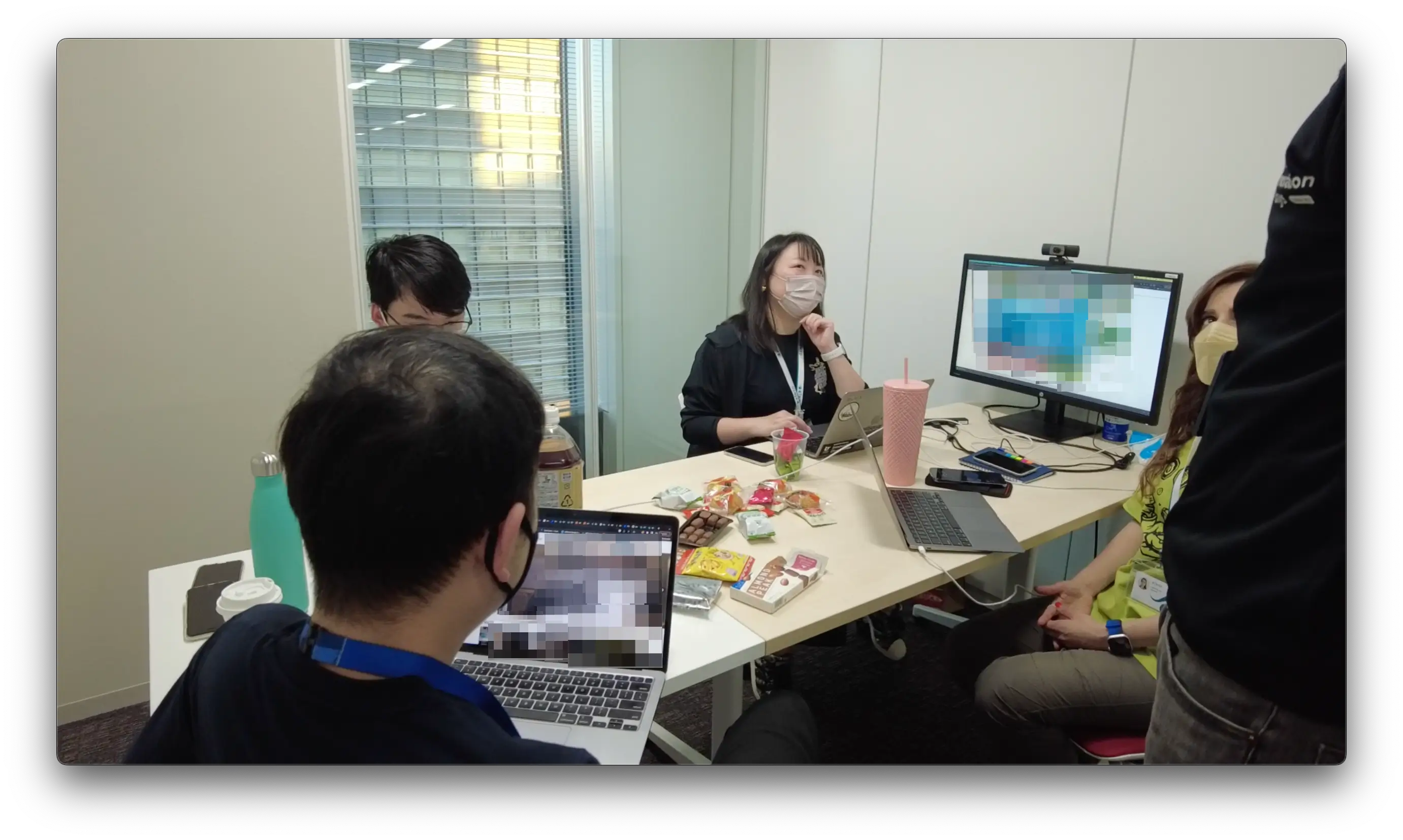 getting feedback from managers during the innovation days event
Q03. Can you tell us more about your tech stack and the team's roles and responsibilities?
Chris: The events planning team divided all teams so that there is one person in each role, so we more or less followed that template. I was in charge of Frontend development and we used Nuxt.js for it because it is being used in Global Development Division and I am familiar with this meta-framework.
Duc: I was in charge of the backend. Since Python is the most common language among us and also quite easy to use, so we decided to use it.
Angela: I was in charge of the platform. For it, we chose AWS because it is what was used in the company and had features relevant to the project.
Moji: I was in charge of the presentation deck for the pitching. Since we had limited time, we prioritized the development process and presentation deck over designing mockups. So I used Figma to create the presentation deck to effectively present our findings and goals to the audience within the limited time we had. We also used Miro to collaborate on creating a unique value proposition. By working together and gaining a holistic understanding of both the user's and business's needs from various perspectives.
Anwar: I was in charge of business model development. To help ensure that the hackathon project is aligned with market needs, has a viable business model, and is effectively communicated to stakeholders. I think the key was that each member of our team shared their thoughts freely and executed their responsibilities (and even more) in a timely and organized manner.
Q04. You have both English and Japanese speakers in the team - how did communication go?
Anwar: Almost all of the members spoke both English and Japanese so we would speak in either, and when a team member did not understand something, somebody was translating for them to make sure everyone understood and was on the same page.
Moji and Angela: Yes, we would usually be the ones raising our voices so that when we needed to understand something, someone from the team would explain.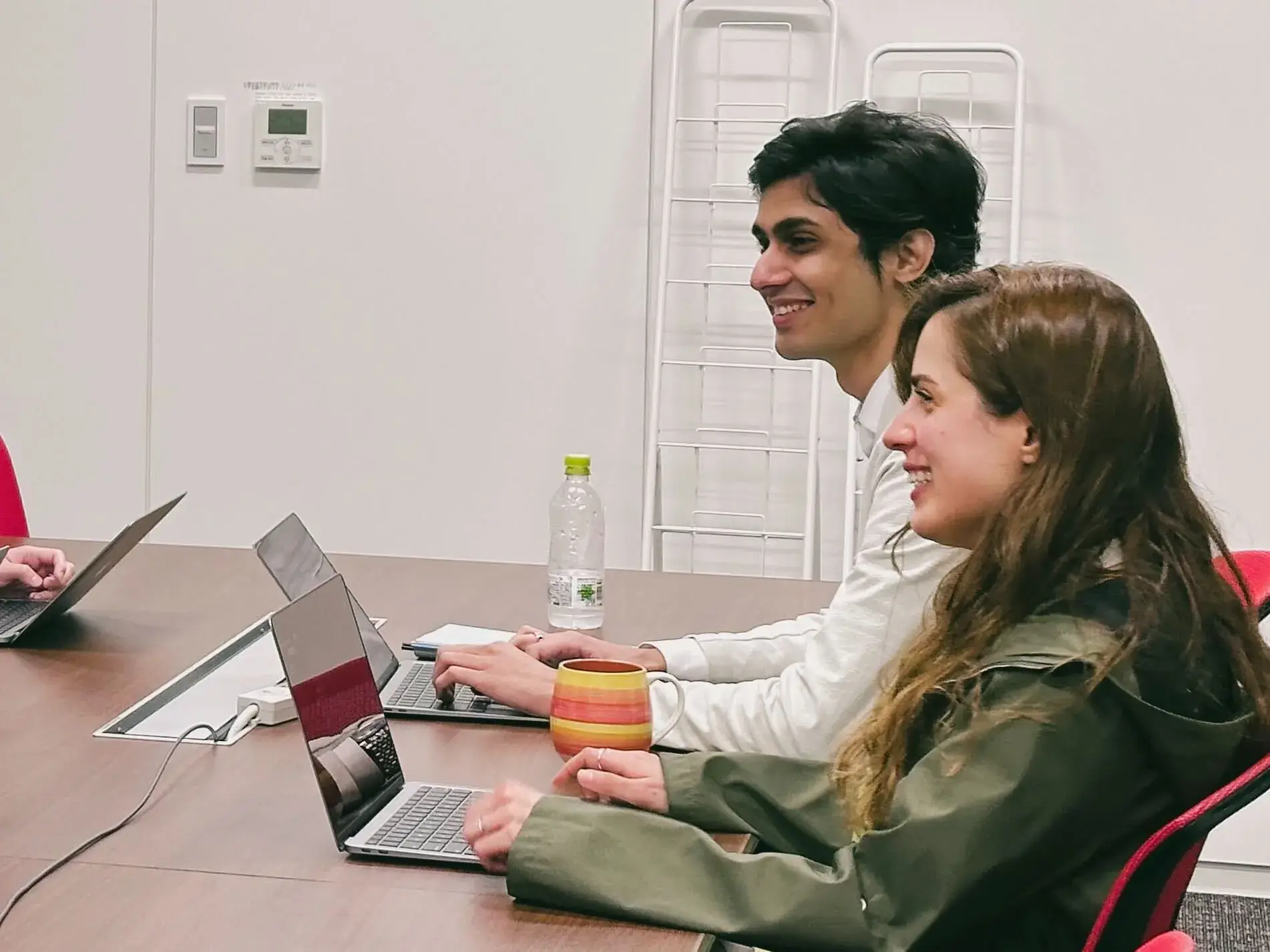 Q05. How were the planning and designing phases?
Anwar: First of all, it was fun. Although having only 4 meetings together, everyone came up with different ideas which made it easier to move forward as we had a lot of ideas to work around with.
Moji: We didn't do that much planning considering the time constraints. A lot was done on the fly and whenever a team member felt there was a gap that needed to be filled, someone would volunteer and do the job.
Chris: We only had about 4 team meetings before the actual event. I don't know how it was for the other teams but for us, it was not enough.
Angela: And yet, we were effective.
Chris: Yes, so we made it worth our time.
Anwar: The good thing was that everyone contributed with different ideas which we tried to combine together into one. So for example, Moji had an idea about kudos, Angela about Google Platform, and then we discussed how to combine them together. And that's how our project came to be.
Duc: Yeah, I wanted to make all of these amazing ideas real.
Chris: At the beginning, we tried to pick out the best idea by voting, but it was difficult to choose only one so we decided to combine a few.
Q06. What surprised you the most during this event?
Anwar: My surprise was how good the communication between the teammates was. Our team dynamics were very well balanced, in my opinion.
Chris: For me, it was everyone's level of motivation, and how cooperative we were. Moji mentioned it before but each of us took initiative and ownership of what needed to be done and contributed effectively.
Angela: As it was the first time for us to work together, what surprised me the most was discovering the strengths of each one in our team.
Duc: I was really surprised by how energetic all the attendees were. My current team is mainly backend, and it is a little bit quieter there.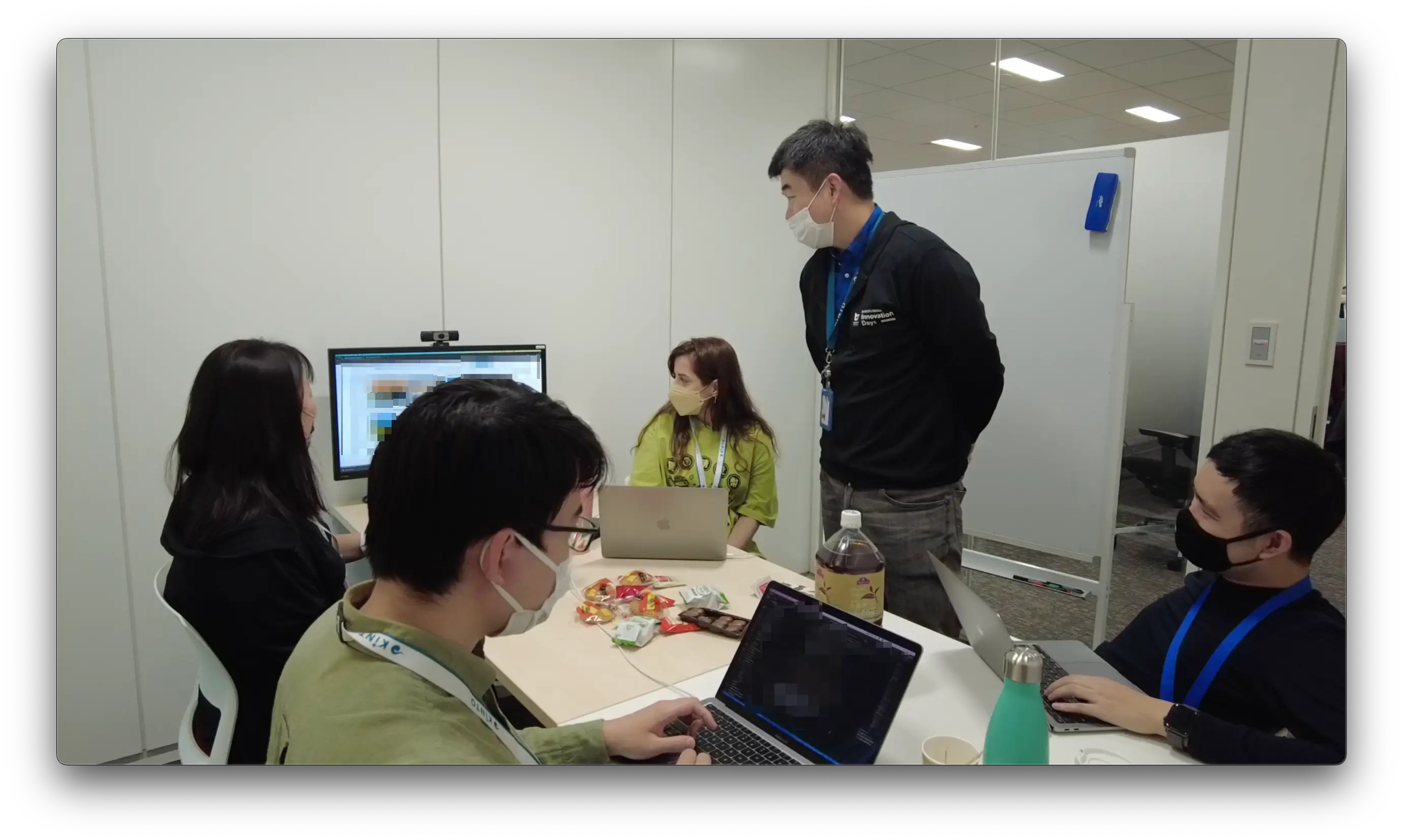 presenting their ideas to our GM during the event
Q07. What were your biggest challenges and how did you overcome them?
Chris: The product we wanted to create was huge so I would say narrowing down the scope of what to develop in the short period of time we had, which was two days. To overcome this, we had to prioritize the features and choose which features to actually develop and which to mock visually on the frontend side for the presentation.
Moji: Since we were targeting young generations, and having in mind the way they communicate in social media nowadays, we wanted to showcase as well that we have the technical capabilities to materialize our vision.
Chris: Yes, we also wanted to implement a technology that none of us had tried before, so working with that was also challenging.
Angela: For that, I did a technical analysis with feedback from the team, combined it with previous knowledge I had, and tested it until we were happy with the functionality.
Chris: Another challenge was to find time for all of us to gather and discuss the project since we are all in different teams and projects.
Angela: To overcome this, since the time we had was limited, we used to discuss action items to do till the next meeting and followed them up at the beginning of the next one.
Duc: As the Innovation Days was held at our company and the number of meeting rooms was limited and varied in size, the organizing team decided to raffle the rooms leaving it to the luck of the team leads and unfortunately, we had the smallest room out of all the participants.
Moji: Yes, we had the smallest room and probably this was the only point where we could not do anything about it.
Anwar: well, we tried our best to support each other and make it as comfortable amongst each other as possible.
Chris: another big challenge was the fact that Anwar was unfortunately not able to stay with us for the second part of the event due to personal reasons. We tried to overcome it by sharing our status and keeping Anwar in the loop through Slack.
Q08. Did you think you would win?
Anwar: Well, I think all participants of the event had the same winning spirit! We had a team motto, "we win as a team or we lose as a team" and we stood by it.
Moji: I think the focus for us was not about winning, but networking, communicating well together, having fun while challenging ourselves to think creatively and out-of-the-box; and this mindset and how we approached it, is what helped us to win the competition.
Duc: I think other teams' ideas were also very good, but I am so proud of mine that I feel ours had the most potential.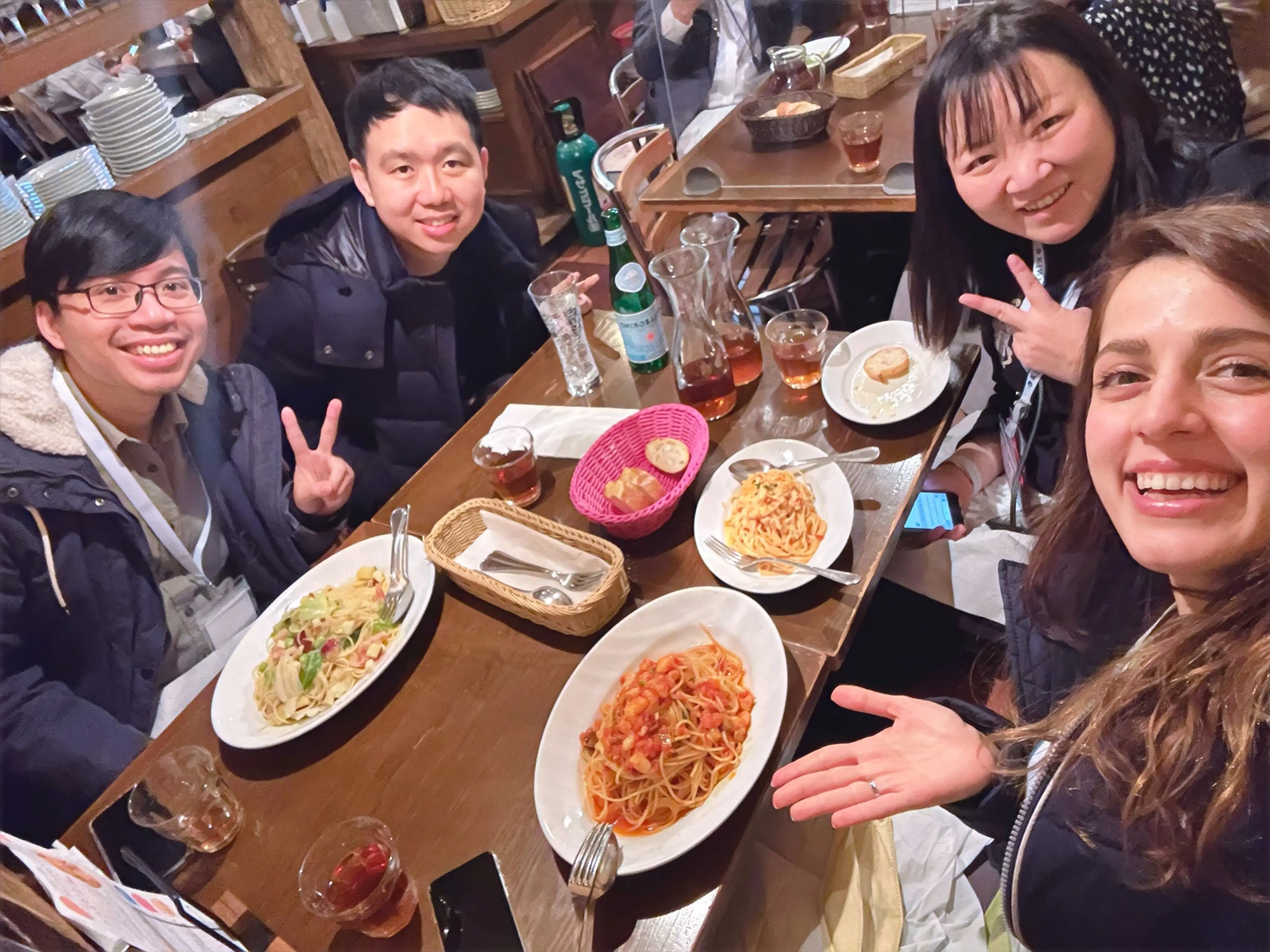 team lunch!
Q09. About lessons learned in this period of quick ideation and development: would you change anything from how you did it this time?
Chris: Although we wouldn't change any major things of what we did overall, we did conduct a Keep, Problem, Try Retrospective, where we reflected on what we did. A problem we identified then was the time constriction, although that was part of the challenge by design. Probably what we would all change is to plan more in advance so that not having time to review well wouldn't be an issue.
Q10. Events such as these, or hackathons, are more PoC-like; how is it different from projects that you work on a daily basis?
Moji: I mentioned it a bit earlier, but time constraints and resource constraints, mainly.
Anwar: For me, what was very interesting was to get to exchange ideas with friendly colleagues from different backgrounds. It felt fresh and also easy to work with than with my usual work.
Angela: There was no hierarchy among us, no power structure, it was just equal colleagues working together on what each does best.
Chris: Anwar and myself switched the leading role, but to be honest, it felt like it was not needed.
Anwar: Everyone led when necessary!
Chris: Yeah! Like a republic.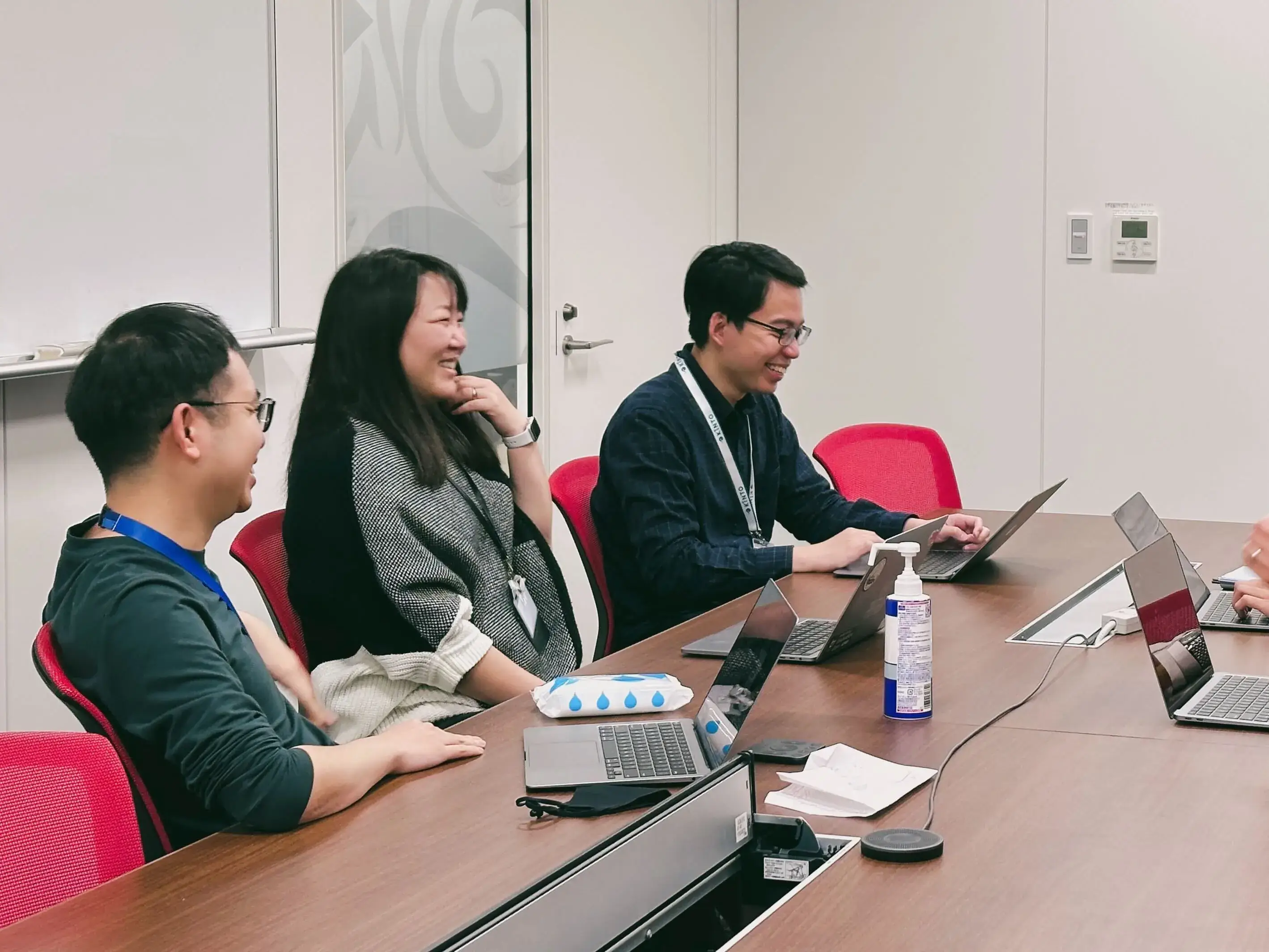 Q11. What would you say were the elements that make you stand out from the rest of the teams?
Moji: I would definitely say it was our collaborative spirit. All of the members worked very well, collaborating with each other and I think that made us create an impact and stand out as a result. Chris used the expression "selfless extra effort", which I think summarizes very well that spirit: not only taking ownership of tasks but also going the extra mile of researching what could be best and sharing ideas and input with the team.
Chris: I think we utilized well the fact that each of us has our own expertise in terms of web development. Secondly, every one of us in the team expresses their opinion and idea proactively, yet listen and respect others at the same time. During our meetings, there were agreements and disagreements, but in the end, we could always come up with a final conclusion and make progress.
Angela: I also think that respect and trust were big factors. We are from different teams so during our preparation period we would normally work on different topics, but when we set the goal to finish something for this event until the next time we meet, I fully trusted that each of us would accomplish those goals.
Duc: I think our idea was very novel and how we implemented it was also quite good.
Q12. To close this interview, I would like to ask you one last question: what would you advise those interested in joining hackathons or events such as this one?
Chris: I would advise them to not hesitate to try out new stuff and make sure to communicate with their teammates.
Anwar: I would add that sometimes I think it's good to not stay too formal (especially here in Japan where people tend to keep forms). Dropping formalities for more effective and honest communication is necessary, and I think it wouldn't have been what it became without us being as casual.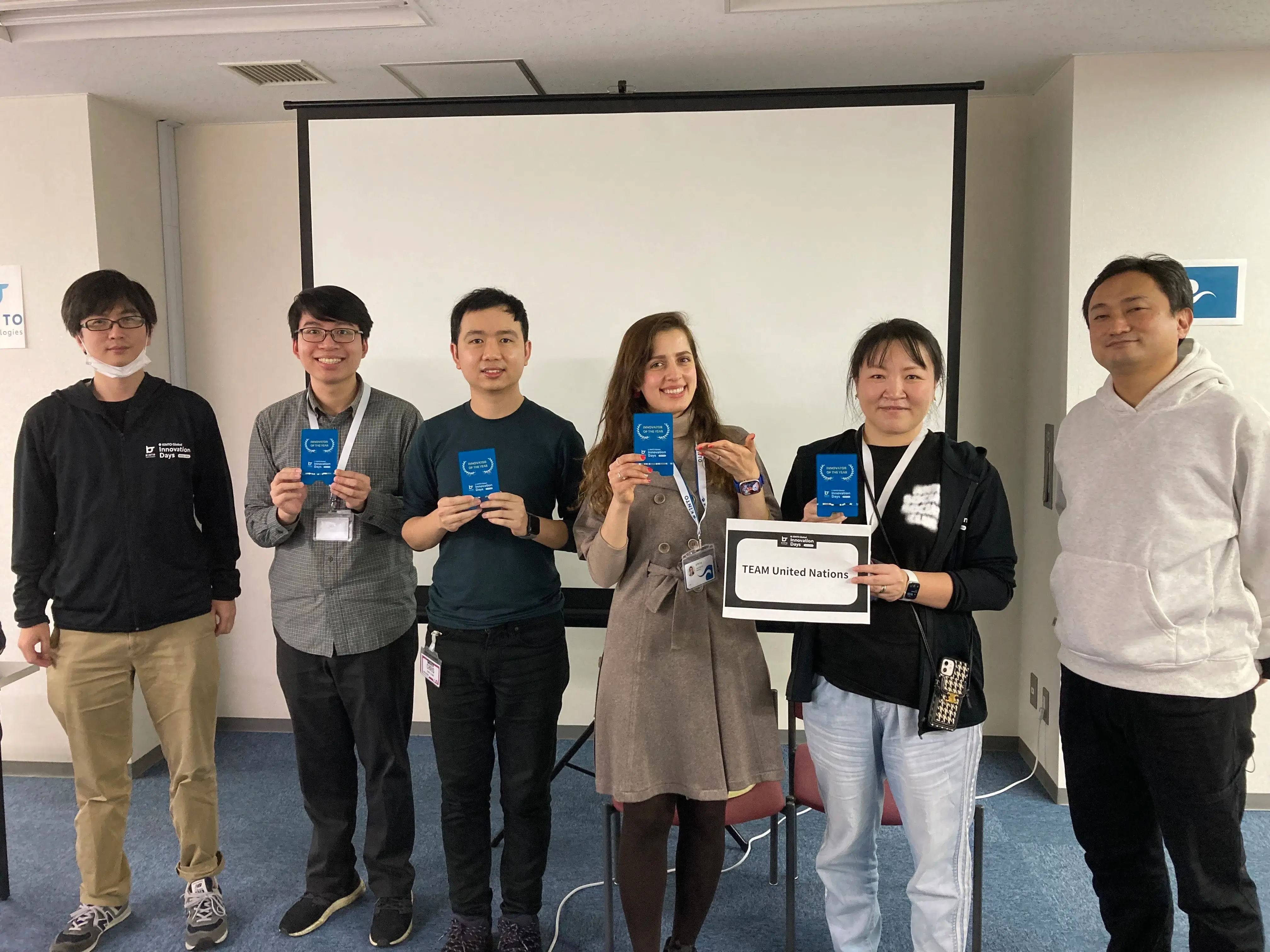 missing Messi during the awarding
Further reading
I hope the above interview has inspired you to go and join an ideathon/hackathon!
You can also read the article about the time the global group participated in a hackathon organised by Toyota Motors North America:
Swarm Hackathon Event Report
And if you want to learn more about the global group, you can read the following articles:
Global Group Introduction Pt 1
Global Group Introduction Pt 2
Global Group Introduction Pt 3